---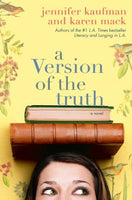 In the wilds of Topanga Canyon, Cassie is right at home—with the call of birds, the sound of wind in the trees, the harmony of a world without people. But everywhere else, life is a little harder for Cassie. Her mother believes in Big Foot. Her wisecracking pet parrot is a drama queen. And at the age of thirty, newly single and without a college degree, Cassie desperately needs a decent paycheck. Which is why, against all her principles, she lies on her résumé for an office job at an elite university—and then finds herself employed in academia by two professors who are as rare as the birds she covets.

One of her new bosses is Professor William Conner, a sexy, handsome, cheerfully aristocratic expert in animal behavior. Soon, under Conner's charismatic tutelage, Cassie carefully begins her personal transformation while meeting the kind of people who don't flock to wildlife preserves—from impossibly brilliant academics to adorably spoiled college boys. But her future—and unlikely new career—is teetering on one unbearable untruth. And Cassie's masquerade is about to come undone…in a chain of events that will transform her life—and the lives of those around her—forever.
Used. Good condition. Some wear and tear. Medium damage to the spine of the book. Minor shelf wear to the bottom of the book. Price marked in pencil.