---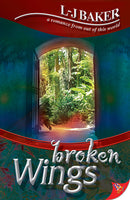 In a magical world where being different is the norm, why must Rye Woods fear for her life if the truth about her hidden identity is revealed?
When Rye Woods, a fairy, meets the beautiful dryad Flora Withe, her libido, as squashed and hidden as her wings, reawakens along with her heart. But Rye is a poor builder's labourer with a teenage sister to raise, while Flora is a wealthy artist-celebrity with a tree-top condominium and a sporty, late-model flying carpet. If those aren't obstacles enough to the scorching attraction that rapidly develops, Rye lives under the pall of a dark secret that has made her a fugitive in the very land where she sought freedom. The more Rye reveals to Flora, the more vulnerable she is to her past catching up with her. Can she and Flora find their way to loving one another in the face of their social and cultural differences while struggling with the dark forces that threaten Rye?
Broken Wings is a soaring celebration of the power of love, family, and justice to triumph over intolerance, homophobia, and slavery.
Used. Paperback. Good condition. Some wear and tear. Minor shelf wear to the bottom of the book. Minor damage to the top of the book.