---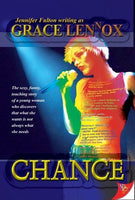 At twenty-six, Chance Delaney decides her life isn't working so she swaps it for a different one.

On a quest for adventure, meaning and a girlfriend, she finds herself transported from her safe job in a San Francisco gay and lesbian bookstore to No.1 on the charts, as lead vocalist for the all-women band Virgin Blessing. An instant celebrity, Chance is surrounded by hot women, especially her fellow band members Peaches, Siren and cigar smoking Lucrezia. Finding sexual partners is not a problem, yet true love seems more elusive than ever.

When the band's hit songwriter, Layla Wilde refuses to date her, let alone sleep with her, Chance sets out to change her mind.

Chock full of unforgettable characters, Chance is the sexy, funny, touching story of two women who, in finding themselves, also find one another. 
Used. Paperback. Good condition. Some wear and tear. Minor damage to the corners of the book.