---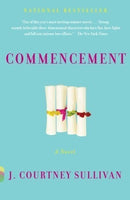 Assigned to the same dorm their first year at Smith College, Celia, Bree, Sally, and April couldn't have less in common. Celia, a lapsed Catholic, arrives with her grandmother's rosary beads in hand and a bottle of vodka in her suitcase; beautiful Bree pines for the fiancé she left behind in Savannah; Sally, pristinely dressed in Lilly Pulitzer, is reeling from the loss of her mother; and April, a radical, redheaded feminist wearing a "Riot: Don't Diet" T-shirt, wants a room transfer immediately.

Together they experience the ecstatic highs and painful lows of early adulthood: Celia's trust in men is demolished in one terrible evening, Bree falls in love with someone she could never bring home to her traditional family, Sally seeks solace in her English professor, and April realizes that, for the first time in her life, she has friends she can actually confide in.

When they reunite for Sally's wedding four years after graduation, their friendships have changed, but they remain fiercely devoted to one another. Schooled in the ideals of feminism, they have to figure out how it applies to their real lives in matters of love, work, family, and sex. For Celia, Bree, and Sally, this means grappling with one-night stands, maiden names, and parental disapproval—along with occasional loneliness and heartbreak. But for April, whose activism has become her life's work, it means something far more dangerous.

Used. Paperback. Good condition. Some wear and tear. High shelf wear to the bottom corners of the book. Medium shelf wear to the rest of the bottom of the book, Minor damage to the front and back covers. High damage to the top of the book. Borders price sticker on the back of the book. Price marked in pencil.