---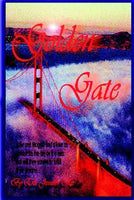 Two women meet amidst the smoldering cinder of a burning inferno. They are familiar with the heat, they have both been burned before. One by loved ones the other by lovers.
Now they must join forces to defeat a common enemy, the problem is: this enemy has no face.
Maggie McKinnon is a struggling young reporter looking for her break in the newspaper world.
Julia Cassinelli is a well established investigator. She is looking for her next big case and maybe something else, something that seems always to elude her.
Neither realize that someone is looking for them, someone who wants them dead.
Julia and Maggie find one other and a love as golden as the gates of the city by the sea. But will they survive to fulfill their dreams? They must find the answers before time runs out.
Used. Paperback. Acceptable condition. Some wear and tear. Minor shelf wear to the bottom of the book. Medium damage to the spine and top of the book.