---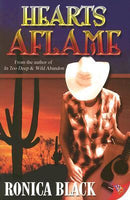 A poignant, erotic romance packed with adventure and set in the harsh beauty of the Arizona countryside.

Real estate guru Krista Wyler is soon at the mercy of the Arizona desert when she learns she has inherited her family's business, Wyler Ranch. Her aunt is dying and her uncle is no longer capable of making decisions. Krista reluctantly moves in, but her plan is to sell the ranch as soon as possible.

Rae Jarrett, the strong, stubborn vet who has cared for the ranch as well as the horses, objects to her selling and offers her aid. Krista resists the help as well as her attraction to the mysterious vet, but decides instead to turn the ranch into a dude ranch. Soon city folk are knocking at the door ready to pay good money to get a chance to herd the Wyler cattle across Arizona. The plan seems full proof until Krista herself, along with Rae, has to set out on the trail with them.

The journey leads to a life changing adventure neither woman could have foreseen and will never forget. 
Used. Paperback. Good condition. Some wear and tear. Minor shelf wear to the bottom of the book. Minor damage to the top of the book.