---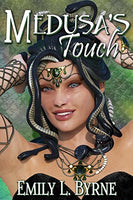 Sale
Medusa Pilot Captain TiCara X273, ex-street kid and former bondslave, thought she wanted nothing more than to be captain of her own starship. Or, at least, that was all that she thought she wanted until Sherin Khan came back into her life. A bar singer turned corporate rep, Sherin is now working for Ser Trin Vahn, one of TiCara's best clients and head of Vahn Corp.

Once they are thrown together on TiCara's ship, TiCara and Sherin can no longer deny their simmering attraction to each other. A simple mission to transport the ailing Vahn to the legendary asteroid, Electra 12, for medical treatments turns dark and dangerous as betrayal leads to betrayal. TiCara's greatest enemy is pursuing them, there's a traitor on her crew and Sherin has a secret that can tear them apart. Can they learn to trust each other before it's too late?
New, but some shelf wear to the bottom of the book and damage to the corners, edge, and top of the book.