---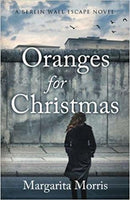 Berlin. August 1961. The Cold War rages. When the Berlin Wall suddenly divides East from West, Sabine is separated from her beloved brother, Dieter. Escape to the West is the only option if the family is to be reunited. But the Wall is guarded by soldiers operating a shoot to kill policy. To make matters worse, Sabine finds herself at the mercy of the Stasi and their brutal interrogation techniques. She must fight to escape. She must fight to survive.

Cut off from his family and motivated by his fury at the Berlin Wall, Dieter joins forces with a group of people determined to rescue their loved ones from East Berlin. They have a plan. But it's a dangerous project, beset with difficulties at every turn. The key is knowing who to trust.
Used. Good condition. Some wear and tear. Bent top front corner. Price marked in pencil by seller.