---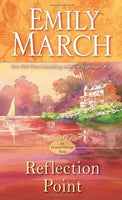 Savannah Moore arrives in Eternity Springs alone, determined to put her troubled past behind her. Her handcrafted-soap shop fits right in with the magic of this warm and welcoming community—but the sexy, suspicious local sheriff promises to upset her hard-won happiness.

Zach Turner knows this woman means trouble: Maybe to his town. Possibly to his friends. Definitely to his heart. Something about this simmering Southern beauty does crazy things to his committed bachelor status, taunting him with possibilities far beyond his dedication to his sometimes dangerous job. So when Savannah's dark past follows her to town, wreaking havoc with both their lives, Zach will fight for all he's worth—for a love he can't afford to lose.
Used. Mass market paperback. Good condition. Some wear and tear. Minor shelf wear on the bottom of the book. Minor damage to the top of the book. Price sticker on the back cover from the now defunct Ukazoo Books. Price marked in pencil by current seller.