---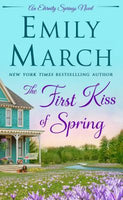 Spring has come to Eternity Springs in the newest installment in this New York Times bestselling series by Emily March.

When Josh Tarkington gets stuck on a gondola with the lovely Caitlin Timberlake, he thinks his consistently bad luck might have changed.

After their blossoming romance is interrupted, Caitlin realizes that her encounter with Josh was a sign that she needed to make a major life change. So she packs up her things and moves to Eternity Springs, opens a day care, and sets her cap for the town's mechanic—Josh.

But Josh is hiding a well of secrets that would ruin him, and his relationship with everyone in Eternity Springs—especially Caitlin. When tragedy strikes, Josh and Caitlin find themselves, and their relationship, tested beyond imagining. Will they be able to find their way back to each other?
Used. Good condition. Some wear and tear. Medium damage to the spine and top of the book. Minor damage to the corners of the book. Price marked in pencil. Price sticker from the now-defunct Ukazoo Books on the back cover.