---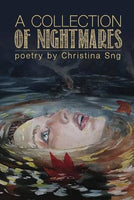 Hold your screams and enter a world of seasonal creatures, dreams of bones, and confessions modeled from open eyes and endless insomnia. Christina Sng's A Collection of Nightmares is a poetic feast of sleeplessness and shadows, an exquisite exhibition of fear and things better left unsaid. Here are ramblings at the end of the world and a path that leads to a thousand paper cuts at the hands of a skin carver. There are crawlspace whispers, and fresh sheets gently washed with sacrifice and poison, and if you're careful in this ghost month, these poems will call upon the succubus to tend to your flesh wounds and scars.

These nightmares are sweeping fantasies that electrocute the senses as much as they dull the ache of loneliness by showing you what's hiding under your bed, in the back of your closet, and inside your head. Sng's poems dissect and flower, her autopsies are delicate blooms dressed with blood and syntax. Her words are charcoal and cotton, safe yet dressed in an executioner's garb.

Dream carefully.
You've already made your bed.
The nightmares you have now will not be kind.
And you have no one to blame but yourself. 
New.