---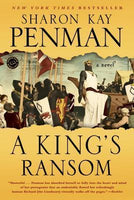 This long-anticipated sequel to the national bestseller Lionheart is a vivid and heart-wrenching story of the last event-filled years in the life of Richard, Coeur de Lion. Taken captive by the Holy Roman Emperor while en route home—in violation of the papal decree protecting all crusaders—he was to spend fifteen months chained in a dungeon while Eleanor of Aquitaine moved heaven and earth to raise the exorbitant ransom. But a further humiliation awaited him: he was forced to kneel and swear fealty to his bitter enemy.

For the five years remaining to him, betrayals, intrigues, wars, and illness were ever present. So were his infidelities, perhaps a pattern set by his father's faithlessness to Eleanor. But the courage, compassion, and intelligence of this warrior king became the stuff of legend, and A King's Ransom brings the man and his world fully and powerfully alive.
Used. Paperback. Some wear and tear. Minor shelf wear to the bottom of the book. Some very minor damage to the spine of the book.