---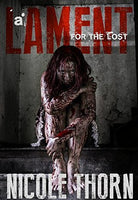 Not allowed the freedoms accorded to her older brother Phin, Willow Warren's overprotective parents made her feel like a prisoner in her own home.
All of that was changed one day with a single phone call. Soon, Willow would find herself on the run with Phin and his girlfriend, to escape a facility intent on killing her friends and holding her captive to study the strange gifts she was born with.
A chance meeting with Fitz, an employee for the facility, may provide her only chance at escape. But his behavior seems erratic. Her life, and the lives of those she loves, will depend on figuring out who she can trust. 
New.