---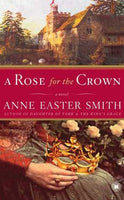 In A Rose for the Crown, we meet one of history's alleged villains through the eyes of a captivating new heroine -- the woman who was the mother of his illegitimate children, a woman who loved him for who he really was, no matter what the cost to herself.
As Kate Haute moves from her peasant roots to the luxurious palaces of England, her path is inextricably intertwined with that of Richard, Duke of Gloucester, later King Richard III. Although they could never marry, their young passion grows into a love that sustains them through war, personal tragedy, and the dangerous heights of political triumph.
Anne Easter Smith's impeccable research provides the backbone of an engrossing and vibrant debut from a major new historical novelist.
Used. Paperback. Good condition. Some wear and tear. Medium damage to the spine. Minor shelf wear to the bottom of the book. Minor damage to the corners and top of the book.