---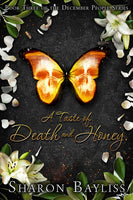 When Samantha's parents died, she lost everything. Her home. Her friends. Her hope. Then a life-loving spring witch at the children's shelter fills her life with light and joy once again.

But like the springtime, Samantha's happiness doesn't last forever. Her friend dies violently in front of her, the victim of a mysterious killing spell. Furious and grief-stricken, Samantha resents her own weak spring magic. She doesn't need life and renewal. She wants revenge…and death.

Homeless and alone, Samantha seeks shelter with her old friends, the Vandergraff family, and finds an unexpected ally in the powerful winter solstice witch, Evangeline. The girls' anger and eagerness lead them to cast a killing spell before knowing the truth behind Samantha's friend's death or the identity of her killer.

Once the spell is cast, they can't take it back, and they must fight to stop their own curse before it takes away everyone they love.
New.