---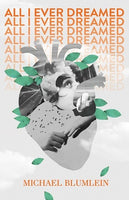 In the opening story of this extraordinary collection, "California Burning," a man must come to terms with a strange truth about his dead father, whose corpse refuses to be cremated. In "Snow in Dirt," a man finds the woman of his dreams buried in a state of suspended animation in his garden. The burned-out fashion designer in "Hymenoptera" receives new inspiration when a chest-high, eight-foot-long wasp shows up in his studio. And in stories like "Twenty-two and You," "The Roberts," and "Know How Can Do," Blumlein explores the consequences—sometimes humorous, sometimes horrific—of scientific technologies such as genetic manipulation and the creation of artificial life.

Varying widely in theme and subject matter, these stories showcase the breadth and power of Michael Blumlein's vision and once again reveal him to be one of the most original and fascinating of contemporary writers. They are stories that skirt the boundaries of fantasy, science fiction and horror, existing in a genre uniquely the author's own.

This volume brings together all the short fiction published by Blumlein in the three decades since the original appearance of his award-winning collection The Brains of Rats (1989), including two stories published here in book form for the first time.

Used. Good condition. Minimal wear and tear. Minor damage at the top of the spine. Price marked in pencil.