---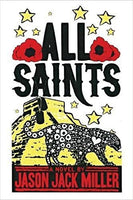 In some dark corners of Mexico, All Saints' Day isn't merely a time to remember the dead. It's an invitation to commune.

When a woman cursed with immortality and a man haunted by a bloody war stumble headlong into this strange mélange of mysticism and cosmology, they learn that a return home may entail more than a voyage of mere miles. It will require them to traverse space and time.
Used. Good condition. Some wear and tear. Minor shelf wear to the bottom of the book. Minor damage to the bottom of the book. Price marked in pencil.