---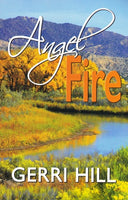 A vacation out of the city sounds like just the ticket for Tori Hunter and Sam Kennedy. Joining their Dallas Police Department pals Casey O'Connor and Leslie Tucker in a rented RV, they set out for the New Mexico mountains—and on a collision course with a manhunt.

FBI agents Cameron Ross and Andrea Sullivan are tracking a deadly quarry in desolate territory. An ex-teammate from Cameron's Special-Ops days is in deep hiding, planning who-knows-what to cap off a killing spree. With a hostage at stake and time running out, Cameron reluctantly agrees to outside help from women she doesn't know…or trust.

In the crossover that fans have been clamoring for, it's a heart-pounding race against time that challenges the courage and commitment of the exceptional women from Gerri Hill's Hunter's Way and Devil's Rock Series.

Used. Good condition. Some wear and tear. Minor shelf wear to the bottom of the book. Minor damage to the top of the book.