---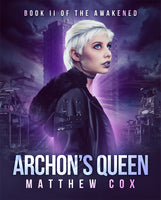 Secrets, guilt, and shame―Annabelle Morgan has them all in droves. Fortunately, only one can kill her.

Anna's gift, psionic control over electricity, tends to go haywire in moments of high emotion. One such episode leaves her homeless after her father's "accidental" death. She ekes out a modest life as a thief and freelance enforcer until a close call with a murderous government agency makes her turn to Zoom―a powerful hallucinogenic street drug that numbs her mind so the monster cannot get out.

Her safety blanket becomes a devouring pit.

In 2413 London, Anna lives in the gutter, unable to even keep work as an exotic dancer and prostitute. After ignoring her only friend's pleas for years, it takes a pimp telling her she is too addicted to be useful to realize just how lost she is.

When a young addition to her circle of vagrants attaches to her, Anna attempts to turn away from Zoom. A job from her old handler ends on shaky ground, but introduces her to Doctor James Mardling, a university professor looking for people just like her. He offers the one thing she has always longed for: dignity.
New.