---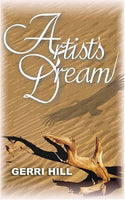 Cassie Parker has grown used to denying her sexuality. Her father, the fire-and-brimstone Reverend Parker, has made that a neccessity. Raised in a web of secrets, sadness, and under the heavy hand of her father's righteous wrath and intolerance, Cassie turns to her art to fill the hole in her heart and erase the memory of a mother who abandoned her in childhood. Then Luke Winston enters her life. Strong, mysterious, and beautiful, Luke sparks Cassie's desire, and takes her heart to places she's never known. Soon Cassie can no longer deny her attraction to women--and especially to Luke.
When Cassie's father makes an unexpected visit, the intrusion on her new life explodes as dark family secrests are revealed. Will Cassie choose a life without family...or a life without love?
Used. Paperback. Good condition. Minor shelf wear to the bottom of the book.