---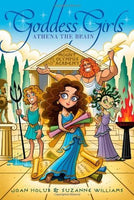 Athena has always been above average. She has never quite fit in at Triton Junior High, but who would've guessed that Athena is actually a goddess? Principal Zeus's daughter, to be exact.
When she's summoned to Mount Olympus Academy, Athena thinks she might actually fit in for the first time in her life. But in some ways, school on Mount Olympus is not that different from down on Earth, and Athena is going to have to deal with the baddest mean girl in history: Medusa!
Used. Paperback. Good condition. Some wear and tear. Minor shelf wear to the bottom corners of the book. Price marked in pencil.