---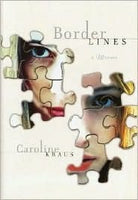 When Caroline Kraus leaves behind her sheltered, upper-middle-class home in St. Louis for San Francisco following the death of her mother, she is searching for clarity and a fresh perspective to help her escape her mother's ghost. Instead, in a dreamlike city of beatnik bookstores and coffeehouses, she meets Jane.

Bewitching and free-spirited, Jane offers Caroline the warmth, intuitive understanding, and female companionship she craves, and soon the two women are inseparable. But gradually, Caroline discovers that behind the intensity that makes the friendship so intoxicating lies a dangerous, symbiotic stranglehold. As their lives and psyches become evermore intertwined, Jane begins to reveal some disturbing qualities and pulls Caroline further into her troubled depths. And as her subtle manipulations blossom into emotional blackmail, financial ruin, alarming promiscuity, and ultimately, physical aggression, Caroline must fight to regain her sense of self, and her understanding of where Jane ends and she begins.

Mesmerizing and unforgettable, Borderlines is an extraordinary literary debut that offers an unflinching look at the potent dynamics beneath the surface of any intimate relationship—and at the darker side of friendships between women.
Used. Hardback. Good condition. Some wear and tear. Minor shelf wear to the bottom of the book. Minor damage to the top of the book.