---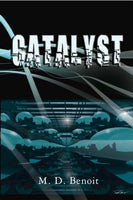 2046. Mutations and MIDS ravage the planet, and the need for body parts and organ transplants escalate. Corbin has created GenOrg, a farm that speed-grows in coffin-like pods thousands of human clones from stolen DNA. One problem: the clones are sentient. Their genetic memory has even given them the ability to communicate with each other.

Ashar, a self-named clone, escapes GenOrg, promising to return to free the others. Running for his life, he is joined by Sara Logan, a geneticist with a guilty secret, and Pietr Ludov, a reporter seeking the ultimate story. They hatch out a plan to bring down Corbin, but it's not enough for Ashar—he wants the clones free.

Struggling with his own genetic identity, Ashar devises a plan that will unleash repercussions.
New.