---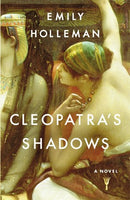 Before Caesar and the carpet, before Antony and Actium, before Octavian and the asp, there was Arsinoe.

Abandoned by her beloved Cleopatra and an indifferent father, young Arsinoe must fight for her survival in the bloodthirsty royal court when her half-sister Berenice seizes Egypt's throne. Even as the quick-witted girl wins Berenice's favor, a new specter haunts her days-dark dreams that have a habit of coming true.

To survive, she escapes the palace for the war-torn streets of Alexandria. Meanwhile, Berenice confronts her own demons as she fights to maintain power. When their deposed father Ptolemy marches on the city with a Roman army, both daughters must decide where their allegiances truly lie, and Arsinoe grapples with the truth, that the only way to survive her dynasty is to rule it.
Used. Good condition. Some wear and tear. Minor shelf wear to the bottom of the book. Minor damage to the corners, side, and top of the book. Price marked in pencil.