---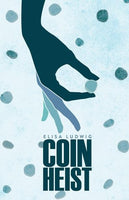 The last place you'd expect to find a team of criminals is at a prestigious Philadelphia prep school. But on a class trip to the U.S. Mint - which prints a million new coins every 30 minutes - an overlooked security flaw becomes far too tempting for a small group of students to ignore.

United by dire circumstances, these unlikely allies - the nerd, the slacker, the athlete, and the perfect student - band together to attempt the impossible: rob the U.S. Mint. This diverse crew is forced to confront their true beliefs about each other and themselves as they do the wrong thing for the right reasons.
Used. Paperback. Acceptable condition. Creases on the top right and bottom right corners of the front cover. Medium damage to the top right front corner. High damage to the front cover near the top of the spine. Minor shelf wear to the bottom of the book. Price marked in pencil.