---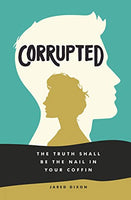 Jeremiah (Jerry) Nelson was happy, living the life of a struggling writer in New York City and proudly owning his identity as a gay man. However, his past catches up with him once he is forced to return home to his dysfunctional family, a history that involves a tragic loss, his bulimia, and his indelible stint in conversion therapy.

Harriet Nelson never recovered from the loss of her daughter five years ago, passively watching as her marriage disintegrated before her eyes. When her oldest son, Jerry, comes home from New York, Harriet slowly finds the fortitude to be happy, no matter the cost.

Carl's identity as a preacher's kid has never allowed him the space to own his identity as a gay young man. On the cusp of entering college, he dangerously ventures into the "forbidden" world of same-sex relationships just as his father has a revelation to preach a message of conversion to heterosexuality.

Through the help of his friends Carl and Mel and his younger brother, Leo, Jerry finds the courage to channel his painful past into exposing the dangerous, duplicitous world of conversion therapy as a field reporter for an online magazine, Rainbow Warriors. As Jerry digs into a world he vowed to never return to, a world Carl's father is convinced holds the key to salvation for homosexuals, he discovers a shocking criminal connection that threatens not only his own life but the lives of some of his closest friends as well.
Used. Paperback. Good condition. Small smudge mark on the front cover. Minor damage to the corners of the book. Minor damage to the corners of the book. Price marked in pencil.