---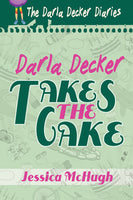 A week at Camp Wakonda is exactly what Darla Decker needs. Having said goodbye to sixth grade and her best childhood friend, she's ready to create new memories and meet new people. Unfortunately, entering summer camp on a whopper of a lie and a fight with a fellow camper isn't the best way to begin.

Aided by her schoolmate Nate, Darla navigates the twists and turns of life at summer camp while pretending to be Wakonda's only "undercover counselor." Despite the lies, older guys, bullies, and breakdowns, Darla discovers the truth about friendship through the mayhem and magic of camp.

A frank and funny look at the path to adulthood, Darla Decker Takes the Cake continues the journey of love, loss, and the nitty-gritty of growing up through Darla Decker's eyes.
New.