---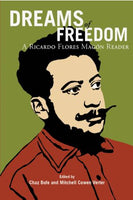 The most comprehensive anthology of the Mexican revolutionary's writings available in English. Translated, compiled, and annotated by Mitchell Verter and Chaz Bufe. Also includes a lengthy biographical preface by Verter.
The words of this Mexican-American working class hero brought to English language readers for the first time.
"From the darker nations comes the vibrant and still fresh voice of the tremendous anarcho-communist Flores Ricardo Magon. In Mexico they have streets named after him. Elsewhere he is little known. Hopefully those who are illiterate in Spanish will now take this great radical into our hearts through this very powerful collection. Land and Liberty!" —Vijay Prashad.
New.