---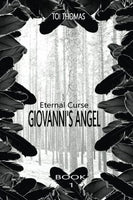 'You have plenty of time to change your mind. You have not yet seen the monster I can be.'

Giovanni has been waiting his whole life to meet someone like Mira, someone from the outside world who might be able to help him. He wonders if there really is help for him as he continues to hold tightly onto dark secrets and even darker memories. Giovanni wants to be hopeful and he wants to accept Mira's help, but first he has to look himself in the mirror and face what he truly is-and that is a reality no one is quite ready to accept.

Searching for new purpose and meaning in her life, Mira meets Giovanni online and an exciting (and in some ways scary) friendship is developed. Mira decides one day to meet Giovanni in person, at his secluded country home, in order to aid him on his journey of selfdiscovery. What these two are able to discover will not only test their strength and will, but it will stretch the limits of their minds and catapult them into a world where earth, Heaven, and Hell collide.

Eternal Curse is the story of a man who may just be the answer to a spiritual war swiftly heading his way-but for now, he just wants to be a man.

New.