---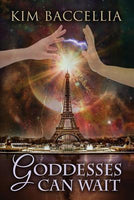 Jordan Lake, a fifteen-year-old Audrey Hepburn-olic who's a magnet for goddesses, has a chance to go to Paris with her grandmother and BFF Selena Garza. Even though she senses something is off, she decides to make the trip.

But when she kisses a cute Parisian boy a la Roman Holiday, she switches bodies with Aphrodite and is sent to the Greek netherworld. She must enlist the help of the Greek god (in more ways than one) Ares then complete seven trials set by his sister Artemis in order to return home.

Except time is running out, and if she can't get Aphrodite back to the Eiffel Tower by midnight, she'll be stuck in Greek mythology forever.
New.