---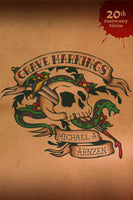 Grave Markings follows the tortured mental breakdown of Mark Michael Kilpatrick—an artist driven to purge visions of hell from his tainted mind by permanently working his ink into the skins of unwilling victims…the flesh of both the living and freshly dead.

News reporter Roy Roberts finds himself drawn into an obsession with tattoo culture, at the same time as Kilpatrick's own compulsions produce sicker and sicker masterpieces that attract media attention, twisting in a spiral that inevitably brings Roberts and his loved ones into Kilpatrick's morbidly perverse universe, and the artist's deadly inkgun turns toward them…

And the ink keeps spreading… Now, for the first time in trade paperback, readers can find out why this novel won the Bram Stoker Award, the International Horror Critics Guild Award, and such widespread acclaim across the horror genre. Included in this special Twentieth Anniversary edition are 50 pages of insightful BONUS material by Arnzen: a new preface, five literary essays, and four short stories (two never before published) involving bikers, tattoo and terror.
New.