---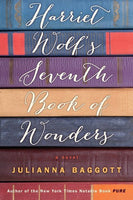 A brilliantly crafted saga about three generations of women and their secrets, including the discovery of a final unpublished book by the family matriarch, a revered and reclusive author.

Harriet Wolf has a final confession. It can be found only in the final book of the series that made her a famous writer. But does that book exist?

This absorbing novel spans the entire twentieth century, telling the moving story of a mother, her daughter, and two granddaughters, one of whom is the only person alive who knows the whereabouts of Harriet's final book. When a hospitalization brings the family back together, the mystery not only of Harriet's last book, but also of her life, hangs in the balance. Will the truth ever be known, or is Harriet's story gone forever?
Used. Hardback. Good condition. Minor shelf wear to the bottom of the dust jacket. Minor damage to the top of the book.