---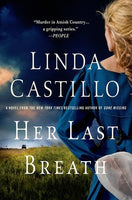 An extraordinarily beautiful Amish woman, a dangerous femme fatale, is the central figure in a story that reveals a dark side of Painters Mill and its seemingly perfect Amish world

A rainy night, an Amish father returning home with his three children, a speeding car hurtling toward them out of nowhere.

What at first seems like a tragic, but routine car accident suddenly takes on a more sinister cast as evidence emerges that nothing about the crash is accidental. But who would want to kill an Amish deacon and two of his children? He leaves behind a grieving widow and a young boy who clings to life in the intensive care wing of a hospital, unable to communicate. He may be the only one who knows what happened that night. Desperate to find out who killed her best friend's husband and why, Kate begins to suspect she is not looking for a reckless drunk, but instead is on the trail of a cold blooded killer amid the residents of Painter's Mill. It is a search that takes her on a chilling journey into the darkest reaches of the human heart and makes her question everything she has ever believed about the Amish culture into which she was born.
Used. Hardcover. Some wear and tear. Some very minor shelf wear to the bottom of the dust jacket. Minor damage to the top of the dust jacket. Price marked in pencil.