---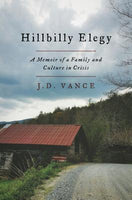 Hillbilly Elegy is a passionate and personal analysis of a culture in crisis—that of white working-class Americans. The disintegration of this group, a process that has been slowly occurring now for more than forty years, has been reported with growing frequency and alarm, but has never before been written about as searingly from the inside. J. D. Vance tells the true story of what a social, regional, and class decline feels like when you were born with it hung around your neck.

The Vance family story begins hopefully in postwar America. J. D.'s grandparents were "dirt poor and in love," and moved north from Kentucky's Appalachia region to Ohio in the hopes of escaping the dreadful poverty around them. They raised a middle-class family, and eventually one of their grandchildren would graduate from Yale Law School, a conventional marker of success in achieving generational upward mobility. But as the family saga of Hillbilly Elegy plays out, we learn that J.D.'s grandparents, aunt, uncle, sister, and, most of all, his mother struggled profoundly with the demands of their new middle-class life, never fully escaping the legacy of abuse, alcoholism, poverty, and trauma so characteristic of their part of America. With piercing honesty, Vance shows how he himself still carries around the demons of his chaotic family history.
Used. Good condition. Some wear and tear. Minor shelf wear to the bottom of the dust jacket. Price marked in pencil by previous seller. Price marked in pencil by current seller.  Please note that the price on our website is a bit higher than the price marked in pencil, to account for the rise in cost of packing supplies. Customers in Baltimore City and County may use promo code Baltimore to lower the price, since we won't be using as many packing supplies.