---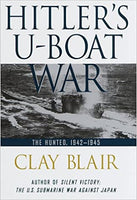 The first volume of Clay Blair's magisterial, highly praised narrative history of the German submarine war against Allied shipping in World War II, The Hunters, 1939-1942, described the Battle of the Atlantic waged first against the British Empire and then against the Americas. This second and concluding volume, The Hunted, 1942-1945, covers the period when the fortunes of the German Navy were completely reversed, and it suffered perhaps the most devastating defeat of any of the German forces.
  
In unprecedented detail and drawing on sources never used before, Clay Blair continues the dramatic and authoritative story of the failures and fortunes of the German U-boat campaign against the United States and Great Britain. All the major patrols and sorties made by the Germans are described in detail and with considerable human interest: the Peleus and Laconia affairs; the capture at sea of U-505; the crisis of German command; the futile operations against the Americas; and the mounting and devastating losses that, in effect, entirely destroyed the German submarine service.
    
Amid the riveting accounts of battles at sea in Volume I, military historian Blair, who served on an American submarine in the Pacific against Japan, postulates that the German U-boat peril in the Atlantic has been "vastly overblown" in previously published histories and memoirs of that naval struggle, as well as in films. As a consequence, Blair writes, a false mythology about the effectiveness of U-boats has taken root, and in order to clearly and fully understand World War II, one must put the U-boat threat into proper perspective.  
Used. Hardcover. Good condition. Some wear and tear.  Minor shelf wear to the bottom of the dust jacket. Minor damage to the top of the book. Price marked in pencil. Please note that the price on our website is a bit higher than the price marked in pencil, to account for the rise in cost of packing supplies. Customers in Baltimore City and County may use promo code Baltimore to lower the price, since we won't be using as many packing supplies.