---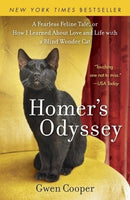 ONCE IN NINE LIVES, SOMETHING EXTRAORDINARY HAPPENS.
 
The last thing Gwen Cooper wanted was another cat. She already had two, not to mention a phenomenally underpaying job and a recently broken heart. Then Gwen's veterinarian called with a story about a three-week-old eyeless kitten who'd been abandoned. It was love at first sight.
Used. Paperback. Acceptable condition. Some wear and tear. High shelf wear to the bottom of the book. High damage to the corners and top of the cover of the book. Minor damage to the spine of the book.