---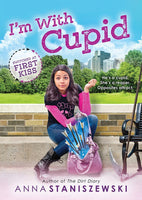 Marcus is a Cupid. Lena is a Reaper. Opposites attract in the exciting new Switched At First Kiss series by the acclaimed author of The Dirt Diary.

When she's dared to kiss the adorkable Marcus Torelli at a party, Lena thinks it's the perfect opportunity to cross First Kiss off her list of "Things to Accomplish Before I Turn Fourteen."

It's only when she gets sent on an assignment the next day that she realizes something went horribly wrong. That ZING she felt wasn't the thrill of her first kiss--she and Marcus have swapped powers! Lena is not your average eighth grader; she's a soul collector with a serious job to do. And Marcus turns out to be a supernatural matchmaker (like Cupid, but without the diaper).

Now logical Lena finds herself with the love touch, and sweet, sentimental Marcus has death at his fingertips. The truth is that Lena should never have taken that dare...because one little kiss has Lena and Marcus in a whole lotta trouble.
Used. Paperback. Good condition. Minor shelf wear to the bottom and the bottom corners of the book. Minor damage to the top of the book. Price marked in pencil.