---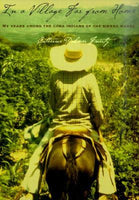 What do most career women do after a successful run on Madison Avenue? Catherine Finerty watched her friends settle into the country-club life. She opted instead for Mexico.

When the 60-year-old widow loaded up her car and headed south, what she found at the end of the road was far from what she expected. Finerty settled into a comfortable house just outside of Guadalajara and, although not a Catholic, she soon immersed herself in Franciscan volunteer work. It wasn't long before she found herself visiting small settlements hidden in the tropical mountains of western Mexico, and it was in Jesús María—so isolated that one could only get there by mule or small plane—that she found her new calling: the village nurse.

With its bugs and heat, no phones or running water, the tiny town was hardly a place to enjoy one's retirement years, but Finerty was quickly charmed by the community of Cora Indians and mestizos. Armed with modest supplies, a couple of textbooks, and common sense, she found herself delivering first aid, advising on public health, and administering injections. And in a place where people still believed in the power of shamans, providing health care sometimes required giving in to the magical belief that a hypodermic needle could cure anything.

Finerty's account of her eight years in Jesús María is both a compelling story of nursing under adverse conditions and a loving portrait of a people and their ways. She shares the joys and sorrows of this isolated world: religious festivals and rites of passage; the tragedy of illness and death in a place where people still rely on one another as much as medicine; a flash flood that causes such havoc that even less-than-pious village men attend Mass daily. And she introduces a cast of characters not unlike those in a novel: Padre Domingo and his airborne medical practice; the local bishop, who frowns on Finerty's slacks; Chela, a mestiza from whom she rents her modest two-room house (complete with scorpions); and the young Cora Indian woman Chuy, from whom she gains insight into her new neighbors.
Used. Good condition. Some wear and tear. Minor shelf wear to the bottom of the book. Remnants of a price sticker from previous seller on the back cover. Price marked in pencil.