---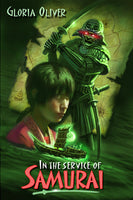 The choice: Serve the undead or become one of them.


Toshi never expected the strange visitor who one evening stepped foot inside his master's shop. A samurai smelling of the sea, dripping on the ground, algae strung from his armor. For the first time in his life, he discovers that monsters do roam the earth. And this one has been specifically looking for him.

Dragged from his home and all he has ever known, Toshi must now use his acquired skills in foreign maps to help the creatures who have taken him. Yet at every turn there are problems. There are even those seeking to terminate his very life, not wanting his new master to succeed in his assigned task. And when they do find it, Toshi discovers his new master's enemies have prepared for their eventual arrival, leaving him the only one capable of recovering what has been lost. Can he do what even the undead cannot? Or will he fail and be forced to wander the world as one of them?
New.