---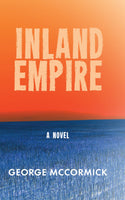 Like the smog that forms the subject of an acclaimed photographic exhibition, Inland Empire is what it isn't. The novel isn't about a young landscape photographer who leaves the concrete vistas of his California suburb for a community college teaching post in Oklahoma. It is a spiritual journey into place and time, guided by grain elevator signifiers and horizon lines. The American West. Religion. Skateboarding. War. Masculinity. Loss. The indelible image. A deeply evocative tableaux, Inland Empire does what only the best art can: it resists classification.

"I thought I would feel more. What I wasn't expecting was this disconnect between the blankness of these nearly anonymous spaces and the depth of sorrow they were supposed to contain. It was with this in mind that, after selecting a dozen photographs, I developed them into 16' x 20' Type C color prints. As I organized the show and thought about what to include on each photograph's placard, it occurred to me that what I had been fighting against, what had created such unease in me, was the realization of how a historical it all felt. Here were these spaces that were supposed to be defined by the human events that had happened within them, yet they refused
to act or look their part. Increasingly, these landscapes, as photographed, seemed indifferent toward the narratives that had marked them on the map. My unease came from my guilt that I was actively making photographs that encouraged the act of forgetting. Yet that guilt led to a compositional choice: maybe by refusing political geography and not naming these spaces on the placards, the
photographs might begin to restore some other narrative: some story that was perhaps previous, or beside the historical one; one that wasn't totally recognizable but still signified."
Used. Paperback. Good condition. Minor shelf wear on the bottom of the book. Minor shelf wear to the bottom of the book. Price marked in pencil.