---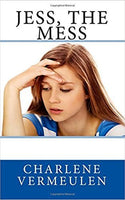 As feisty Jessica moves to yet another middle school, she struggles to stay out of trouble, while living in constant fear that others will find out her family's dark secrets: Jess's mom is an alcoholic, her dad left them years ago, and most days Jess struggles just to find food to eat.
Convinced that she is the reason her mother drinks, especially since Jess constantly gets into trouble at school, she lives with the daily pain of her mom's explosive behavior, and the accompanying shame.
Befriended by sassy, red-headed Anna and cheerful, encouraging Grace, Jess balances the joy of friendship with the hurt she carries with her.
Will self-proclaimed Jess the Mess open her heart and life to her new friends? What happens when her secrets are revealed? Jess learns that everyone can change, but some change comes with a price.
New.