---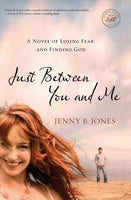 Maggie Montgomery lives a life of adventure. Her job as a cinematographer takes her from one exotic locale to the next. When Maggie's not working, she loves to rappel off cliffs or go skydiving. Nothing frightens her.

Nothing, that is, except Ivy, Texas, where a family emergency pulls her back home to a town full of bad memories, painful secrets, and people Maggie left far behind . . . for a reason.

Forced to stay longer than she intended, Maggie finds her family a complete mess, including the niece her sister has abandoned. Ten-year-old Riley is struggling in school and out of control at home. The only person who can really handle the pint-sized troublemaker is Conner, the local vet and Ivy's most eligible bachelor. But Conner and Maggie keep butting heads--he's suspicious of her and, well, she doesn't rely on anyone but herself.

As Maggie humorously fumbles her way from one mishap to another, she realizes she's going to need to ask for help from the one person who scares her the most.

To save one little girl--and herself--can Maggie let go of her fears and just trust God?
Used. Good condition. Some wear and tear. Medium damage to the spine of the book. Medium wear and tear on the bottom of the book. Price sticker on the back of the book from previous seller. Sticker on the back cover. Price marked in pencil.