---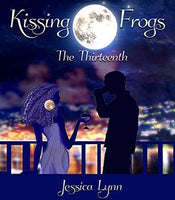 Jessica Lynn's first novel in a series, Kissing Frogs: The Thirteenth follows Journey Richards' quest for love, and the friends and lovers she makes (and loses!) along the way.

After moving from Atlanta to Washington, D.C. with her best friend, Erica, and a devastating breakup with her boyfriend, Journey finds herself employing her "three-day rule" to mourn the loss of her relationship with Devin. However, this breakup is different because Journey's highly intuitive abilities were the cause of Devin's exit. Although Journey is heartbroken and confused, her perceptive dreams and visions have grown stronger and will have a major impact on her life and those around her.

Will Journey's friendships stay intact? Will she ever find the love she deserves? From the ancestral realm to karaoke, thrilling danger, sexy exploits, heart wrenching drama, and the highs and lows of friendships, relationships, and family bonds, Kissing Frogs: The Thirteenth will make you laugh, cry, and feel everything in between.
Used. Good condition. Minor shelf wear to the bottom of the book. Medium damage to the corners of the book. Signed and personalized by the author. Price marked in pencil.