---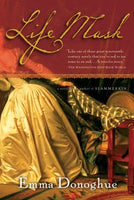 Lord Derby, unhappily married and the inventor of the horse race that bears his name, is the steadfast suitor of England's leading comedy star, Eliza Farren. When the working-class actress begins a deep friendship with the aristocratic widow Anne Damer, a sculptor and rumoured Sapphist, the consequent scandal threatens to topple Eliza from her precarious position and destroy the lives of all three.

In an England overshadowed by the French Revolution, shaken by terrorism and a repressive government, Emma Donoghue leads her characters in an intricate minuet of public ambition and private passion.

In the Houses of Parliament, on the stage, in the bedroom, at the race track and in the intimate salons of the Beau Monde, Life Mask brings to life a world where political liaisons prove just as dangerous as erotic ones. 
Used. Hardcover. Good condition. Some wear and tear. Minor shelf wear to the bottom of the book. Very minor damage to the top corners of the dust jacket.