---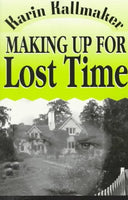 Master Chef Jamie Onassis has used every penny she has to buy a beautiful country inn she plans to turn into a five-star restaurant. Unfortunately, the inn turns out to be a "handyman's special" and, without the skills or capital to make the necessary repairs, Jamie risks losing everything.

Home and garden expert Valkyrie Valentine is a rising star among the do-it-yourself set. A seemingly perfect homemaker, Valkyrie seems destined to become the next Martha Stewart - as long as no one discovers her embarrassing little secret: she can't cook.

Jamie desperately agrees to Val's wild proposition: she'll fix the inn if Jamie will help her fake being a dream chef for a holiday weekend hosting magazine executives. It's just one short weekend and not all that big a lie. What could go wrong?
Used. Paperback. Good condition. Minor shelf wear to the bottom of the book. Minor damage to the top of the book.