---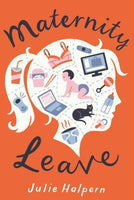 Julie Halpern's "Maternity Leave "tells the profane, profound and just plain funny story of a professional woman who thinks she's ready for a baby but her maternity leave proves otherwise.

Thirty six year old Annie Schwartz-Jensen is a middle school teacher on maternity leave-a time she imagined as uninterrupted, blissful bonding with her baby. Instead she is dealing with her body leaking from every possible orifice, a baby who won't sleep, a husband who still wants to have sex with her (is he nuts ), single friends who are clueless, and a mother who picked now to take a vacation. The only people who REALLY understand Annie are the wonderful people she spends sleepless nights with on QVC: Keep those velveteen table runners and non-jiggle stretch pants coming!

As Annie navigates life with her new baby, she realizes that not all Mommies are created equal. But she is determined to find her way, love her baby, her husband, herself---even if she has to wear nipple protectors for the rest of her child-bearing life.
Used. Paperback. Acceptable condition. Some wear and tear. Minor water damage to the front cover. Medium shelf wear to the bottom of the book. Medium damage to the spine and top of the book. Some glue residue on the back cover from a price sticker from previous seller.