---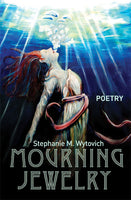 Mourning is the new black…

The tradition of Victorian mourning jewelry began with Queen Victoria after the death of her husband, Prince Albert. Without photography, mementos of personal remembrance were used to honor the dead so that their loved ones could commemorate their memory and keep their spirits close. Ashes were placed within rings, and necklaces were made out of hair, and the concept of death photography, small portraitures of the deceased, were often encased behind glass. Mourning jewelry became a fashion statement as much as a way to cope with grief, and as their pain evolved over the years, so did their jewelry.

But what about the sadness and the memories that they kept close to them at all times? The death-day visions and the reoccurring nightmares? Wytovich explores the horror that breeds inside of the lockets, the quiet terror that hides in the center of the rings. Her collection shows that mourning isn't a temporary state of being, but rather a permanent sickness, an encompassing disease. Her women are alive and dead, lovers and ghosts. They live in worlds that we cannot see, but that we can feel at midnight, that we can explore at three a.m.

Wytovich shows us that there are hearts to shadows and pulses beneath the grave. To her, Mourning Jewelry isn't something that you wear around your neck. It's not fashion or a trend. It's something that you carry inside of you, something that no matter how much it screams, that you can just can't seem to let out.
New.