---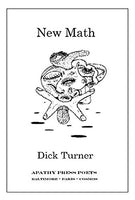 New Math is a sequence of stories written over a thirty-year period by the expatriate American composer/artist/painter Dick Turner. Illustrated with original drawings by the author they combine observation, fantasy and subtle human analyses with poetry and humor: Imagine Charles Baudelaire and Hans Christian Anderson having a beer with Frederic Brown at Edgar Allen Poe's house.
Whether dealing with an urgent midnight call to a plumber, the martyrdom of a thirteenth century saint, the burning desire of a shop-keeper to be King, the demise of Moby Dick on a Southern California beach or the constructive uses of pain New Math will keep the reader curious, thinking and turning the pages.
Turner, who has been living in Paris for the last 25 years, was born and lived for a great deal of his life in Baltimore, Maryland — a city both fabled and notorious for its having produced over the years a constant flow of strangely original voices. 
New.