---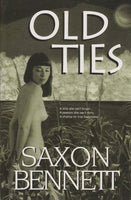 A Love She Can't Forget... For the umpteenth time in their 20-year relationship, Cleo's lover has run off with another woman. Her friends wonder why she puts up with this; why she lets herself be hurt this way; why she doesn't leave. But Cleo's answers are always the same. I wait because I love her. I hurt because I love her. I let her come back because I love her...

A Passion She Can't Deny... Anyone in her right mind would know better than to get involved in Cleo's life right now. But Frankie hasn't been in her right mind since the day she walked into Cleo's cafe. The heat between them is undeniable, but Frankie desires more that a warm place in Cleo's bed. She wants to fill her heart...

A Chance for True Happiness... Maybe this time will be different. Maybe this time Cleo can finally free herself from the chains of the past and surrender to a passionate new love. Then again, old ties are the hardest to break.
Used. Paperback. Good condition. Some wear and tear. Minor shelf wear to the bottom of the book. Minor damage to the top of the book.