---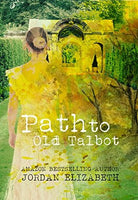 Thirteen-year-old Charity can escape her unpleasant reality by stepping through the parlor closet of her mother's new home, a mansion built in the 1800's.
In her hometown of Talbot, New York, in the year 1880, she doesn't have to worry about her depressed father skipping his medications or her mother flirting with her coworker. Instead, she gets to know the hatter's son, who shows her a lifestyle of manners and pride. Few have ever accepted Charity's old-fashioned ways…until now.
However, old Talbot can't banish the present. Charity can stay in the mansion, with access to the hatter's son in the past, and the prospect of a steady family unit with her mother and the new man in her mother's life, or she can go back to her father, who has been given the option to straighten out his life and join them in their new home. Instead, his world unravels, and he spirals into violence and self-harm.
Torn between two worlds, Charity knows that if she doesn't help him, she may lose him forever if he follows through on his threats of self-destruction.
New.